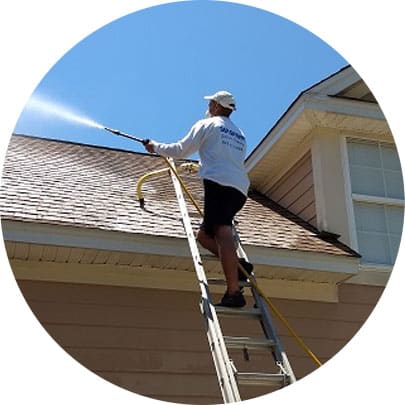 Hernando County 
Roof Cleaning Pros
Low-Pressure Roof Cleaning
Have you ever wondered what those black stains are that are located on your roof? The black streaks are actually algae, called Gloeocapsa Magma. These algae can decompose the surface that they are growing on, including roofing materials. The combination of moisture and heat makes your roof a breeding ground for algae, and other substances like mold, mildew, or bacteria, to grow upon.
The longer these black stains are allowed to dwell on your roof, the more damage they will cause. Potentially, they can even shorten the length of your roofs' life expectancy.
It is important for property owners to clean their roofs on a regular basis. Not only are stains on a roof unsightly, but if they are left untreated, they may lower your home's property value, reduce the life of the roof, increase cooling cost, and may ultimately lead to very expensive repair or replacement issues. Just a little bit of preventative maintenance, where your roof is concerned, can make a big difference in the wellness of your roof.
Soft Wash Roof Cleaners
Most roofing professionals recommend using a specialized cleaning solution and a low-pressure wash. This is also known as soft washing and properly cleans an existing roof. Soft wash roof cleaning techniques ensure a thorough cleaning job, while also protecting all of the roofing building materials. The goal of soft washing to is remove all algae, mold, and mildew, while keeping all roofing materials in place and not causing any damage.
Precision Pro Wash staff members have the expertise, knowledge, and tools to perform an excellent soft wash for any roof. Our staff has cleaned numerous roofs in the Tampa Bay area, including shingle roofs, tile roofs, metal roofs, membrane roofs, and home gutters. Our methods are safe, gentle, and effective. We guarantee our work, as well as quick and thorough results for your own roof. Contact us today for a Free Estimate!
We offer top-rated roof cleaning services to the following cities:
– Roof Cleaning in Brooksville, FL
– Roof Cleaning in Crystal River, FL
– Roof Cleaning in Dade City, FL
– Roof Cleaning in Homosassa, FL
– Roof Cleaning in Land O Lakes, FL
– Roof Cleaning in Lecanto, FL
– Roof Cleaning in New Port Richey, FL
– Roof Cleaning in Spring Hill, FL
– Roof Cleaning in Trinity, FL
– Roof Cleaning in Weeki Wachee, FL
– Roof Cleaning in Wesley Chapel, FL
-And the Surrounding Areas!