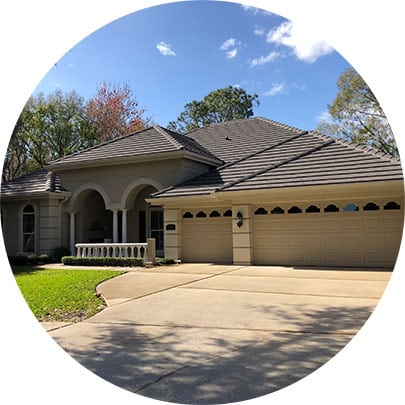 Top Rated Lutz
Roof Cleaning Services
Precision Pro Wash offers a wide range of top-rated pressure washing services, including the best roof cleaning in Lutz. We are the premier pressure washing and Lutz roof cleaning company and provide the best service in our region.
When searching for roof cleaning near me, contact the professional and experienced team at Precision Pro Wash. We effectively remove algae, dirt, grime, mildew, mold, and other nuisance-type substances away from your residential or commercial roof.
All of our team members take great pride in treating your property as if it were their own and aim to provide an excellent outdoor appearance for your residential or commercial property. For all of our pressure cleaning services, we offer a completely safe and proven soft washing system.
Searching for Roof Washing Near Me?
Our soft wash roof wash is a completely environmentally-friendly cleaning solution that is 100% safe for all of your exterior surfaces and will result in a much longer-lasting clean than regular, ordinary pressure washing. Our roof washing methods will safely and effectively clean shingle, tile, or metal roofs without damaging your roofing system.
Precision Pro Wash can take care of the black stains that are located on your roof. These stains are algae, called Gloeocapsa Magma, that can decompose the surface of your roofing materials. When moisture and heat combine, your roof can be a breeding ground for algae and other substances such as mold, mildew, or bacteria, to grow upon.
It is important to have your roof cleaned by a professional roof cleaning company regularly. Not only are those stains and debris unsightly, if left to their own devices they can lower your property value, reduce the life of your roof and its building materials, and can eventually lead to very expensive repair and replacement costs.
Expert Roof Cleaning Lutz Residents Trust
Preventive maintenance in the form of roof cleaning services can make a big difference in the life span of your roof and the safety of your home.
Our low-pressure soft wash roof washing properly cleans your roof with a thorough cleaning that protects your roof building materials. The goal is to remove all algae, mold, and mildew while keeping your roof materials in place and damage-free.
We want to help end your search for Lutz roof cleaning services. Precision Pro Wash technicians have the expertise, knowledge, and state-of-the-art equipment to perform only the best soft wash for any roof in Lutz. We have cleaned countless roofs in our area and even can tackle gutters and other exterior pressure washing projects. We promise that our methods are safe and gentle, yet effective. We also promise efficient cleanings with only the best results!
Call Today for Roof Cleaning in Lutz, FL!
We are proud to serve the town of Lutz as well as its surrounding communities. Lutz is a suburb of Tampa and began with the construction of a small train depot on the Tampa Northern Railroad. Today many festivals and events are held at the replica of this depot.
When you're in search of the best roof washing in Lutz, call the professional team at Precision Pro Wash. You won't be disappointed with our efficient, yet thorough, roof washing services. Call us to discuss your roof washing today! We look forward to providing you with our roof cleaning Lutz FL services!
We also offer a variety of other professional services in Lutz, FL: