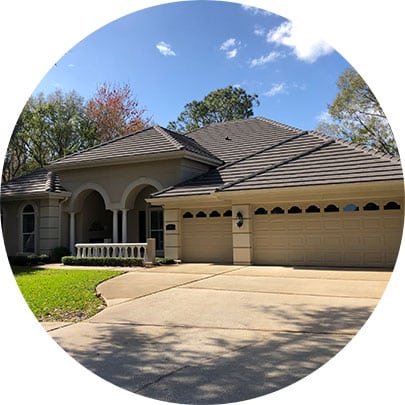 Top Rated Brooksville
Roof Cleaning Services
Pressure cleaning the roof of your home is a valuable activity that every homeowner should perform on a routine basis; however, roof washing requires a unique cleaning process that is not harmful to the specialized roofing materials. The professional team from Precision Pro Wash is skilled and trained in roof cleaning Brooksville services that are transformative, affordable, and safe for your home. If you would like to learn about the professional Brooksville roof cleaning services we offer, then please reach out to one of our representatives at your earliest convenience. We are happy to help you anytime!
Precision Pro Wash is a full-service pressure washing and roof cleaning company. The roof cleaning services we perform will enhance the beauty of your home, protect the integrity of your roofing supplies, and may increase the value of your property, too. We use a process called soft washing to clean away potentially harmful algae, bacteria, mold, mildew, and other organic substances. Our team understands that your home is a significant investment for you. We want to be your trusted partner in helping you care for and maintain your home.
Searching for Roof Washing Near Me?
A soft wash roof wash involves a low-pressure water source and effective cleaners that will penetrate unwanted substances while not harming the roofing materials. Soft washing is appropriate for all types of roofing supplies, including; metal, tile, asphalt shingles, membrane roofs, and more. Soft washing can also be used on gutters and other surfaces around your property that need that type of special attention.
Our cleaning experts begin the soft wash roof wash process along the ridgeline of the roof and systematically work to the edge of the roof's overhang. We allow the cleansers to soak into the surface of the roof before we gently wash away all streaks, stains, and other noticeable traces of dirt. The dark streaks that are often visible along a roof are comprised of algae called Gloeocapsa Magma. These algae can be harmful to the roofing materials if they are not removed regularly. Our professionals have the training, knowledge, and supplies needed to wash away Gloeocapsa Magma and restore the original luster of your home's roof.
Florida's weather can be harsh on all types of building supplies, especially on the roofs of homes across the region. Extreme heat and humid, damp conditions are perfect conditions for algae growth, as well as for other unwanted substances, too. The Brooksville area is no exception. Brooksville is a quiet and quaint community that is located about an hour north of Tampa. This beautiful city in western Florida is the county seat of Hernando County. The area is rich in history, outdoor recreational activities, and many amenities that attract residents and vacationers alike. Approximately 9,200 people live in Brooksville, and many more people visit the area annually.

Expert Roof Cleaning Brooksville Residents Trust
Local attractions include the Train Depot Museum and the Hernando Heritage Museum, which is a great place to learn about the area's past and present. If the great outdoors is calling you, you may want to visit the nearby Withlacoochee State Forest. Many walking, hiking, and biking trails can be found throughout the State Forest, which is located just northeast of Brooksville.
You may also want to visit the beautiful Alfred A McKethan Pine Island Park. This park offers beach access along the Gulf, picnic facilities, playground equipment, volleyball courts, swimming areas, and so much more. Camping, fishing, canoeing, kayaking, and golfing are also popular activities that can be enjoyed around the Brooksville community.
Brooksville has so much to offer to people of all ages. The community is well-known for being a nice and safe place to raise a family or retire. The weather is favorable year-round, so people in the area can enjoy many days of sunny, warm weather throughout the seasons.

Call Today for Roof Cleaning in Brooksville, FL!
As a homeowner in Florida, you are aware of the joys and challenges that each property owner sees routinely. A roof cleaning Brooksville service is one way to protect your home and the integrity of your roof's building materials. The dedicated team from Precision Pro Wash wants to help you in any way we can to protect and clean the outside surfaces around your property.
If you have been searching for a roof cleaning near me company that you can trust, then please get in touch with a team member from Precision Pro Wash today. Our team is glad to answer any questions you have about our services, schedule, or prices. We offer free estimates for potential projects, and we work with each customer to find a cleaning time that suits your busy day.
Precision Pro Wash is a well-established pressure washing and roof cleaning company. We are always excited to work with new customers, as well as existing clients, too. As always, we look forward to hearing from you and working with you anytime during the year!
We also offer the following services in Brooksville, FL: