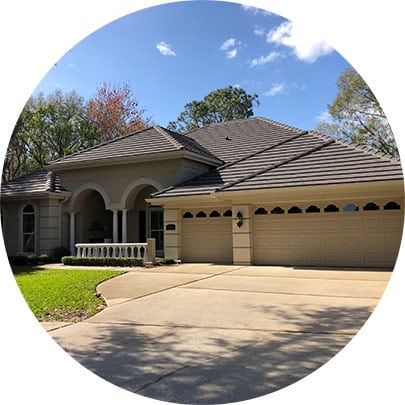 Top-Rated New Port Richey Roof Cleaning Services
The professionals from Precision Pro Wash are pleased to offer top-quality roof cleaning New Port Richey, FL, services to all homeowners in the community. We are a full-service roof cleaning company, and we have the tools, the training, and the experience needed to clean all types of roofing materials. The roof on your home helps protect you, your family, and your belongings. Protect your roof by providing the best maintenance services available in the region. When you are looking for a New Port Richey, FL, roof cleaning company that is prepared to clean your home's roof, then please do not hesitate to call our team from Precision Pro Wash. We are excited to hear from you!
Our team uses a unique cleaning process called soft washing to remove all unwanted substances from your home's roof. A soft wash roof wash will remove stubborn stains from the surface of your roof. This safe and proven cleaning method is used for shingled roofs, metal roofs, tiled roofs, and many other types of building supplies, too. Soft washing is a process that uses low-pressure water and effective cleaners to remove dirt and algae from the roofing materials.
Searching for Roof Washing Near Me?
You may have noticed dark streaks along the surface of your roof. Those streaks are a type of algae called Gloeocapsa Magma. Algae can be harmful to the building materials, especially if left on the materials for long periods of time. Most professionals recommend a roof washing service about once every year or two. Our dedicated team is equipped and trained to take care of roof cleaning services for all shapes and sizes of roofs. We work systematically to clean the entire surface of every roof we service.
Expert Roof Cleaning New Port Richey Residents Trust
New Port Richey is a quaint and welcoming community that is located northwest of Tampa. The town is home to approximately 17,000 residents, and many more people visit the area annually. Incorporated in 1924, New Port Richey is a place that is rich in history and in many things to see and do around the area. Nearby beaches are a main attraction, as well as a variety of restaurants, retail shops, and parks in the region. A couple of favorite parks include Sims Park and James E. Grey Preserve. Sims Park is a nice place to take the kids and let them enjoy themselves on the playground equipment, while James E. Grey Preserve is a peaceful place to enjoy the walking trails and explore local wildlife.
Call Today for Roof Cleaning in New Port Richey, FL !
If it is time for you to have your roof cleaned by a reliable and trustworthy company and you have been searching for a roof cleaning near me service, then please reach out to the top-rated team from Precision Pro Wash today. We are glad to answer any questions for you or provide you with a free quote for your particular cleaning project.
Our goal is to be your one-stop shop for all of your outdoor surface cleaning needs and projects. Roof washing is one of the many exterior cleaning services we offer to our customers. We look forward to providing you with top-quality roof cleaning services or any other outdoor cleaning services at any time! Our team from Precision Pro Wash is excited to hear from you and work with you!
We also offer the following professional services in New Port Richey, FL: