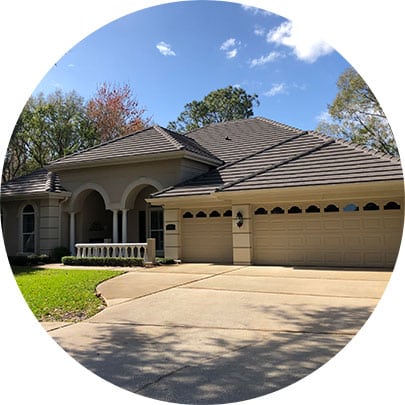 Top Rated Lecanto
Roof Cleaning Services
There are many things to love about Florida, including the sunshine. However, the constant humidity and rain can quickly dirty up your roof. Most residential properties in Lecanto, FL have some sort of black stains on their roof. However, what many people may not realize is that these stains are actually the result of mold, mildew, and algae – three things that need humidity and moisture to survive. 
While having these things on your roof may not seem like a big deal, they can slowly eat away at your roof's shingles and shorten the life expectancy of your roof. Fortunately, roof washing is an easy, cost-effective method of prolonging the life of your roof and removing these unsightly blemishes. Best of all, when you hire a professional roof cleaning company, you won't have to worry about climbing a ladder to complete the job yourself. 
Searching for Roof Washing Near Me?
Think of roof cleaning the same way you would any method of cleaning: there are going to be certain solutions you need to use to clean the surface properly. After all, you wouldn't use bleach to clean a bathroom mirror. Many people tend to confuse the term soft washing with pressure washing, but a soft wash roof wash is way more gentle on your roof's shingles than pressure washing. Unlike pressure washing, which uses a heavy stream of hot water to remove dirt and blemishes from the premises, a soft wash system uses a combination of soap and water to gently remove stains.
There are many benefits to roof cleaning services. First and foremost, they protect your roof and make it last years longer. In fact, professional roof cleaning Lecanto services can extend the life of your roof by up to 20 years. Your roof is already a costly investment, so doing whatever you can to make sure it lasts is critical.
Expert Roof Cleaning Lecanto Residents Trust
Other benefits include: 
Prolongs costly roof repairs

Removes unsightly blemishes

Enhances the look of your home and increases curb appeal 
It's not just Lecanto homeowners who should invest in these types of services either. If you're a commercial business, taking a small step to enhance curb appeal will make your restaurant or local Lecanto business seem more inviting and professional. Even if you're looking to sell your Lecanto home, investing in professional roof washing can help you sell your home faster. 
Call Today for Roof Cleaning in Lecanto, FL!
If you're looking for roof cleaning near me, don't just go with whoever the first search result is in Google. Instead, turn to Precision Pro Wash. Not only are all of the staff trained to professionally soft wash Lecanto roofs, but we have worked on every kind of roof you can think of, including metal, shingles, tiles, and membrane roofs. We've even worked on home gutters, as well. Simply put, the team at Precision Pro Wash has seen and done it all. When you're ready to enhance the look of your home and protect it for the long haul, call the team at Precision Pro Wash at 727-919-3954 to schedule an appointment. 
We also offer the following professional services in Lecanto, FL: