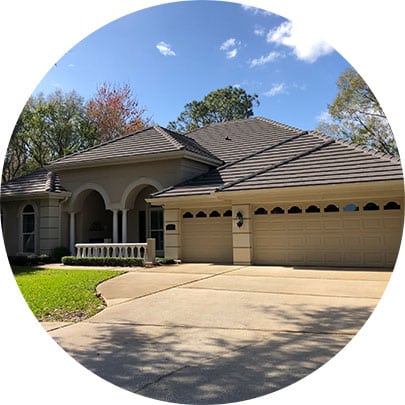 Top-Rated Hudson Roof Cleaning Services
Is your roof dirty with black stains and streaks? No matter how good the rest of your home's exterior may look, having a dirty roof will make your entire property look unruly and unkempt. Plus, if you want to sell your home soon, you may have a hard time finding a potential homebuyer that will look past a dirty roof. If your Hudson, FL home has an unsightly roof, trust Precision Pro Wash to clean it.
Precision Pro Wash is the roof cleaning Hudson, FL company homeowners and business owners can turn to for professional roof cleaning services. Without proper roof cleaning services, you can expect algae and other unwanted house plants to feed on your roof's structures. Most roofs are made from limestone, cellulose, and various wood products are used in the production of asphalt shingles – all materials that will be completely destroyed by destructive algae infestations. If your roof becomes destroyed due to its dirtiness, you should anticipate the need for costly roofing services down the line, such as roof repairs, roof replacements, and new roof installations. With Precision Pro Wash, your local roof cleaning company, you won't have to worry about any of that.
Searching for Roof Washing Near Me?
If you notice black or green stains or streaks on your roof, give Precision Pro Wash, your roof cleaning near me company, a call promptly before further roof damage occurs. By receiving frequent roof washing and soft washing services from us, you can trust that you'll protect your asphalt shingles and increase the lifespan of your roof. Using our effective, safe soft wash roof wash tools and equipment, our roof cleaning professionals are confident in our ability to restore your roof's materials back to their previous conditions after our roof cleaning services. Our experts are highly qualified and fully trained, so they understand the difference between soft washing and pressure washing your roof. Pressure washing can damage your shingles and possibly even void your roof's existing warranty. To protect your shingles and avoid costly repairs, we offer professional soft washing roof cleaning services.
Expert Roof Cleaning Hudson Residents Trust
Let's face it: Hudson, FL weather doesn't take it easy on the roofs of our homes and businesses. The frequent heat and severe rain can cause a lot of damage to our roof's shingles. To make sure you don't have to pay for expensive roofing services in the future, it's smart to turn to your local Hudson roof cleaning company. We recommend you receive roof cleaning services every few years to help maintain your roof's appearance and functionality. Our professionals use tried and true methods and techniques to accurately remove the built-up soot, grime, dust, and other contaminants that are harming your residential or commercial roof. Keep your shingles looking fresh and vibrant, not old and dreary, for years to come with Precision Pro Wash!
Call Today for Roof Cleaning in Hudson, FL!
Once you're ready to experience the difference the team of trained roof technicians from Precision Pro Wash can make to your roof, we welcome you to reach out to us today. We'd be more than happy to schedule our roof cleaning, gutter cleaning, window cleaning, or brick paver sealing services with you.
Precision Pro Wash is happy to provide our roof cleaning services to the Hudson, FL community. With over 12,000 residents calling the Hudson, FL home, there are plenty of homes and businesses in the area that need their roofs cleaned of dirt, grime, soot, algae, and other contaminants. If you're a homeowner or business owner located in Hudson, FL or any of the surrounding areas looking for roof cleaning or other exterior services, choose Precision Pro Wash every single time.
We also offer the following professional services in Hudson, FL: