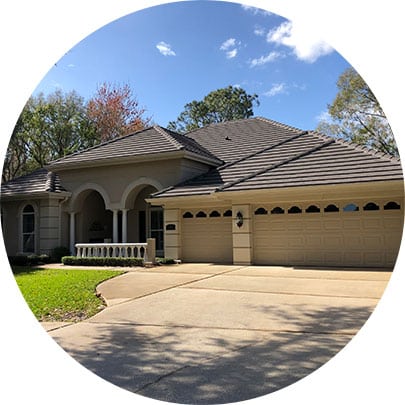 Top-Rated Weeki Wachee Roof Cleaning Services
Are you searching for a proven way to keep your roof in great shape? Search no further than Precision Pro Wash. With regularly scheduled maintenance and cleaning, you can prolong the lifespan of your roofs. There is no such thing as too much cleaning!
Our team of experts has great expertise in cleaning your old roofs and helping you prevent having a leaky, messy roof. Our roof cleaning services are available to all residents and businesses in Weeki Wachee and surrounding areas. Please don't wait until your roof leaks; contact us right away!
Dirt or any other type of debris reduces the resistance of roofs to wind, ice, sunlight, or hail damage. Our highly knowledgeable and experienced professionals remove all dirt and debris from roof shingles or tiles. We use soft-wash roof wash to remove algae and mold that tend to accumulate on roofs during hot, humid summers.
Not to worry, our soft washing methods are safe enough to protect the integrity of your roof and building. It might interest you to know that we use eco-friendly products that are also non-hazardous to humans. Reach out to us for your roof cleaning in Weeki Wachee, FL.
Searching for Roof Washing Near Me?
It doesn't matter how small the stains on your roof are before they can have long-lasting disastrous consequences for your building. These horrible stains eat deep into your roof materials and cause water leaks into your building, basement, and foundation. In the end, you would have to pay loads of money to repair or replace your roof.
As a team, we understand that your homes or commercial properties are your prized possessions and would help keep them from any damage. Let us schedule a routine roof washing that won't get in the way of your daily activities immediately!
Expert Roof Cleaning Weeki Wachee Residents Trust
Our top-tier roof cleaning company would protect your roofs against mold growth, which poses dangerous health implications for individuals, especially those with asthma or respiratory-related allergies. Our experts will thoroughly and extensively check your roof to ensure that no stain is left unattended. What are you waiting for? Get your affordable soft wash roof wash right this instant!
The frequency of Weeki Wachee, FL, roof cleaning for your homes and businesses depends on the roof type and environment. For example, roofs made from clay tiles need to be washed more often than those made from shingles due to the accumulation of dirt and moss.
In a place like Florida, with lots of moisture and dampness, we recommend cleaning your roof at least twice a year. Please don't depend on harsh detergents to clean your roofs when you can get our experts to do a perfect job.
Call Today for Roof Cleaning in Weeki Wachee, FL!
If you are looking for a place to call home that offers a plethora of outdoor activities to keep you busy, then Weeki Wachee is the perfect place for you. With its beautiful preserve and springs, there is no shortage of things to do in this thriving community. The Weeki Wachee Preserve is home to a large number of plant and animal species, as well as a variety of natural features, and it offers an avenue for numerous recreational activities like hiking, biking, fishing, and boating.
If you need top-notch roof cleaning near me for all types of roofs, then Precision Pro Wash is the company you need to call. Let us bring out the beauty in your roof!
We also offer the following professional services in Weeki Wachee, FL: