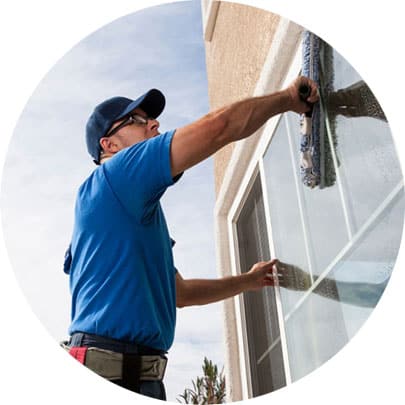 Window
Cleaning
Precision Pro Wash is Tampa Bay's premier window cleaning specialists. Our techniques and attention to detail will leave your windows with a lasting shine. Your windows will be sure to impress your family and friends. When our technicians clean windows, their work doesn't stop at the glass. We also clean your window frames, tracks, sills, and screens. The best part is that all of this is included at no additional cost to you. We offer a streak-free guarantee and a 7-day rain guarantee on all window cleaning projects.
Precision Pro Wash offers construction clean-up services for new homes being built and to window installers. We know just how hard it is to clean a window that has been covered with silicone, stickers, and paint. Why struggle and try to do it yourself, when you can
contact us instead? We will have your new home and your windows finally looking brand new. All you have to do is relax and enjoy your new, beautiful surroundings.
We also offer screen repair services for all residential window screens. If you are a person who enjoys opening your windows on some of our beautiful days, then you know how important it is to have screens that are fully intact. Window screens allow you to enjoy the temperature and the natural noises from the outside, without having to deal with gnats, flies, or other insects. Allow us to help you protect your indoor environment with the repair of any torn screens. You will not be disappointed.
Precision Pro Wash team members aim to ensure a clean, streak-free window cleaning on every window project. Our goal is to provide our customers with clean windows that shine and help you to enjoy the appearance of the outdoor world around you. We will definitely help you "view" your world with clear eyes.
We offer top-rated window cleaning services to the following cities:
–Window Cleaning in Brooksville, FL
– Window Cleaning in Crystal River, FL
– Window Cleaning inDade City, FL
– Window Cleaning in Homosassa, FL
– Window Cleaning in Hudson, FL
– Window Cleaning in Land O Lakes, FL
– Window Cleaning in Lecanto, FL
– Window Cleaning in New Port Richey, FL
– Window Cleaning in Spring Hill, FL
– Window Cleaning in Trinity, FL
– Window Cleaning in Weeki Wachee, FL
– Window Cleaning in Wesley Chapel, FL
-And the Surrounding Areas!