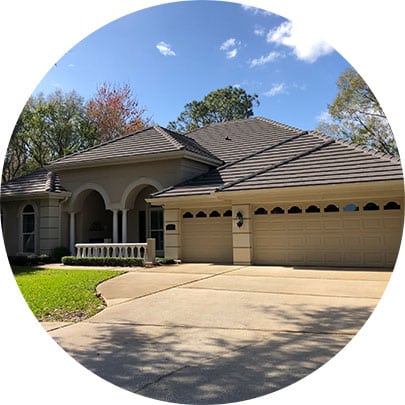 Top-Rated Wesley Chapel Roof Cleaning Services
Ned a roof cleaning? Look no further than our team of professionals at Precision Pro Wash. We're the number one roof cleaning team in the Wesley Chapel, FL area. We are locally owned and operated with years of experience in the Wesley Chapel roof cleaning industry. Over those years, we've developed the top of the line tools and techniques to bring you the best roof cleaning possible. We're top rated because we truly care about our customers. You wont find another roof cleaning company as passionate about the customer experience as us. Give us a call today to schedule your roof cleaning services.
You don't have to search for "roof cleaning near me" any longer. We're the best in the business for a reason! Our roof washing technicians are licensed, insured, and bonded for your peace of mind. You truly don't have to worry about anything when you work with us. We offer full service roof cleaning. Our full service roof cleaning includes a walk through of your property to understand the scope and extensive nature of your cleaning. Once we've settled on a work order, we'll schedule you for a cleaning day. On cleaning day we'll arrive with all the tools and equipment necessary to get the job done right. You can focus on other things rather than your roof washing!
Searching for Roof Washing Near Me?
Our technicians employ a soft washing roof washing approach to ensure your roof is clean and safe from damage. A soft wash approach is necessary because it gently washes away dirt and grime. If you use a hard washing approach, it could rip the shingles off your roof and cause serious cosmetic and structural damage. You won't find another roof cleaning company as dedicated to safe and efficient roof cleaning services as us. If you see a roof cleaning company using high pressure to clean your roof, run away!
Expert Roof Cleaning Wesley Chapel Residents Trust
We love servicing the Wesley Chapel, FL area. Wesley Chapel is a beautiful place with a close-knit community with a welcoming atmosphere. Wesley Chapel is one of our favorite places and we can't wait to service the area for years to come. Wesley Chapel is located in Pasco County, Florida. It is a suburb of Tampa Bay, and is the most populous community in Pasco County. Some of our favorite things to do in the Wesley Chapel, FL area is visiting Hillsborough River State Park, Epperson Lagoon, Lower Hillsborough Wilderness Preserve, Fort Foster State Historic Site, Wesley Chapel District Park, and Flatwoods Park. We can't wait to meet all of our friends and neighbors in the Wesley Chapel, FL area.
Call Today for Roof Cleaning in Wesley Chapel, FL!
Don't forget our name when you're looking for the best roof cleaning possible. We offer a 100 percent customer satisfaction guarantee to all of our roof cleaning services customers. That means if you don't love your roof cleaning services, we'll make it right. Give us a call today to schedule your free consultation. Our roof cleaning team is standing by to answer any questions you have about the process. We can't wait to work with you!
We also offer the following professional services in Wesley Chapel, FL: