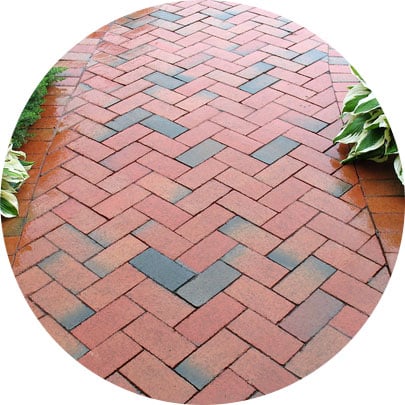 Top Rated Paver
Sealing Pros
Brick pavers within the state of Florida that are not properly sealed will become faded and dull. Over time, they will lose their color and luster that you want them to maintain and that you likely expect them to have. The exposed concrete of your pavers will begin to take on damage from the suns' harmful UV rays, and will make them vulnerable to fading and staining. Furthermore, mold and algae can begin to thrive on the exposed, unprotected surface.
At Precision Pro Wash, we have the expertise and the experience to bring your brick pavers back to life. Our brick paver sealing process will help to restore your brick paver patio, walkway, pool deck, driveway, and/or courtyard to its' original shine and like-new appearance. At the same time, sealing your brick pavers correctly will protect your paver investment for years to come. We can help create the look that you've always wanted!
Expert Paver Sealing Services in Spring Hill and the Weeki Wachee FL area
Precision Pro Wash employees can assist you with many types of sealing projects. Some of these projects include, but are not limited to, the following; brick paver sealing, travertine sealing, and concrete sealing. There are many benefits that are associated with the sealing process. Some ideas include:
Enhances and restores color of faded pavers
Pavers will have a "wet look" and a nice, crisp shine
Protects pavers from destructive UV rays
Locks sand in paver joints providing structural integrity
Protects pavers from rust, oil, and other stains
Inhibits growth of weeds, mold, or algae
Perhaps one of the main benefits of working with Precision Pro Wash, besides our excellent customer service and our industry expertise, is the fact that most sealing projects can all be completed in a single day! Using our sealing process, we are able to clean, sand, and seal your pavers in one day. This allows you to have access to your own driveway, walkway, patio, or pool deck within hours of completing the project. We know that you have things to do, and our goal is to provide you with the best brick paver sealing service possible so that you can enjoy getting back to the things you want to do again quickly and with peace of mind.
We offer top-rated paver sealing services to the following cities:
– Paver Sealing in Brooksville, FL
– Paver Sealing in Crystal River, FL
– Paver Sealing in Dade City, FL
– Paver Sealing in Homosassa, FL
– Paver Sealing in Land O Lakes, FL
– Paver Sealing in Lecanto, FL
– Paver Sealing in New Port Richey, FL
– Paver Sealing in Spring Hill, FL
– Paver Sealing in Trinity, FL
– Paver Sealing in Weeki Wachee, FL
– Paver Sealing in Wesley Chapel, FL
-And the Surrounding Areas!