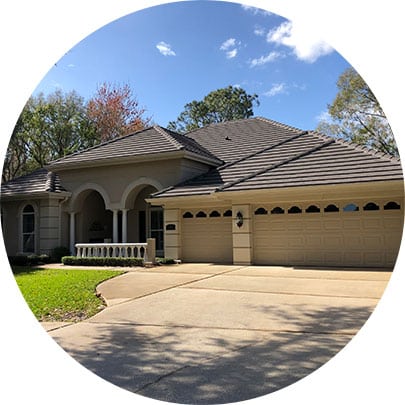 Top-Rated Land O Lakes Roof Cleaning Services
In the world of Land O Lakes, FL roof cleaning, the Precision Pro Wash team is regarded as an authority. Superior results and first-rate customer service are our goals as a roof cleaning company. We provide free quotes for our roof cleaning in Land O Lakes, FL services over the phone, online, or with a Precision Pro Wash representative who can come on-site for a preview. We work hard to achieve the goal of making you happy.
If you've lived in Florida for a while, you're probably aware of the regular maintenance required to keep our home and commercial properties safe from our humid, damp environment. When dealing with a constant bombardment of damp weather, it can feel like a constant battle to keep mold and algae growth to a minimum. The Precision Pro Wash crew can be quite helpful in this situation.
Searching for Roof Washing Near Me?
Algae and mold, which are the most typical suspects attacking rooftops, can quickly migrate from your roof into your attic, leading to infestation troubles inside your home. These intruders, which frequently cause allergies and other health issues, are kept at bay by roof cleaning. Additionally, roof cleaning gets rid of leaves, dust, and debris that accumulate over time and could harm your rooftop.
You might be surprised to learn that the shady sections and the north side of your home have more black and green algae than the south side. This is due to a lack of sunlight. The growth of these bacteria can occur in a variety of roofing materials. If the roof damage is serious enough to result in structural damage and water leaks, roof replacement may be essential in as little as 10 or 15 years.
Expert Roof Cleaning Land O Lakes Residents Trust
The shingles or tiles on your roof need to be cleaned, and pressure washed regularly to stay in good condition, which ultimately saves you money on future repairs. The buildup of dirt, algae, and mildew that can make your roof appear shoddy and discolored is removed by power washing. A soft washing might minimize the need for a full replacement by maintaining the structural integrity of your roof and avoiding major damage.
Depending on the location of your home, roof cleaning services should be performed once every 3–7 years to maintain the long-term quality of your roof. The optimal season to have your roof washing completed is often from spring to late fall, although a soft was roof wash can be done whenever the weather is agreeable. Even in the winter, our roof cleaning techniques are efficient!
Call Today for Roof Cleaning in Land O Lakes, FL!
The Land O' Lakes city is located in Pasco County and is a part of the Tampa-St. Metropolitan area of Petersburg and Clearwater in Florida. In the last 10 to 20 years, Land O' Lakes has experienced tremendous growth. Such nearby former communities as Denham, Ehren, and Gowers Corner have been incorporated into Land O' Lakes. To accommodate the growing population growth, new residences, stores, and schools have been constructed. Anyone looking to spend a day outside with the family will find all they need at Conner Preserve. The Preserve is a 2,980-acre natural area, is located in this medium-sized town, and is a component of the animal habitat corridor connecting Cypress Creek Preserve and Starkey Wilderness Preserve.
If you need top-notch roof cleaning near me for all types of roofs, then Precision Pro Wash is the company you need to call. Let us bring out the beauty in your roof!
We also offer the following professional services in Land O Lakes, FL: