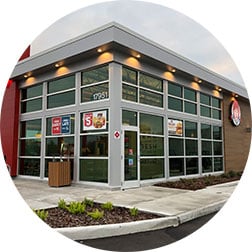 Top-Rated New Port Richey, FL Window Cleaning Services
Have you been looking out your windows and seen specks of dirt or grime that have accumulated on the surface? Or do your windows look a little cloudy, and you are wondering if there is something that you can do to improve your view? If so, then please reach out to the enthusiastic cleaning crew from Precision Pro Wash. We offer transformative window cleaning New Port Richey, FL, services, and we are excited to clean your windows anytime during the year. If you have been searching for a window washing company that provides full-service options for window cleaning, then please get in touch with us today! We look forward to hearing from you!
The professionals from Precision Pro Wash offer residential and commercial window washing services. We enjoy working with customers all over the New Port Richey community as we provide window cleaning services that are reliable, thorough, and affordable. The full-service window washing packages we offer include interior window cleaning, exterior window cleaning, window sill cleaning, window frame cleaning, screen cleaning, and more. We know that you rely on us to treat your home or business with care, and we will do everything we can to enhance your place's beauty while we transform your windows' appearance.
Searching for Window Washing Near Me?
Whether your windows are brand new and still have stickers, silicone, or paint on them, or if the windows are older and well-used, we will thoroughly clean the surface area and improve your view of the world outside your place. Our team has access to professional-grade supplies and equipment that enable us to clean all sizes and shapes of windows efficiently and safely. We work from the top of each window to the base to ensure the glass's full-coverage cleaning. We will also clean adjacent window materials so that your windows will be in tip-top shape once we are finished with the cleaning process.
Expert Window Cleaning New Port Richey Residents Trust
New Port Richey is a quaint and beautiful community that is located just northwest of downtown Tampa. This friendly community is home to around 17,000 people, and many more people visit the area throughout the year. New Port Richey has gorgeous beaches nearby and many other fun things to see and do around the region. Local parks are a main attraction for anyone who wants to be outdoors and enjoy a place to run, play, walk, relax, or spy on local wildlife. The James E. Grey Preserve is a great place to spot various wildlife as you stroll along shaded raised boardwalks and walking paths.
The professional team from Precision Pro Wash wants to help you improve the appearance and cleanliness of your home or business so you can have more time to do other things you want to do and so you can enjoy the beauty of your property. Routine window cleaning services help to improve their appearance and help prolong the life expectancy of the windows and maintain their integrity, too.
Call Today for Window Cleaning in New Port Richey, FL !
If you have been searching for a window cleaning near me service that is dependable, trustworthy, and transformative, then please remember our experienced cleaning crew from Precision Pro Wash. We take pride in the work we do for our customers, and we enjoy building long-lasting relationships with satisfied clients, too. We know that you rely on us to treat your property with respect, and we will do just that as we work to improve your residential or commercial property. We look forward to speaking with you anytime!
We also offer the following professional services: