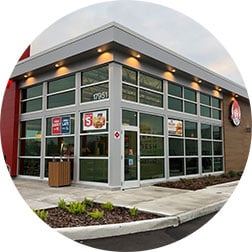 Top-Rated Land O Lakes Window Cleaning Services
If you've lived in Florida for a long time, you surely know that our homes and commercial properties need regular upkeep to stay protected from our humid, damp environment. It can feel like a never-ending effort to prevent mold and algae growth while dealing with a steady barrage of wet weather. In this case, a window washing company like those at the Precision Pro Wash which does both exterior and interior window cleaning can be quite helpful.
Window cleaning in Land O Lakes, FL can extend the life of your windows in regions with harsh weather. Materials may accumulate on the outside of your windows as a result of occurrences like hurricanes or dust storms. This debris can permanently scratch your windows if it is not removed. After inclement weather, professionals like us can provide window cleaning services using specialized products and tools.
Searching for Window Washing Near Me?
For some homeowners, finding the time to clean their windows may seem like an impossible undertaking. Schedules are frequently completely filled with work and children, which may cause window washing to be neglected. Additionally, acquiring the necessary cleaning supplies and gear and climbing ladders for higher windows just makes the procedure harder. Make no assumptions about finding the time to clean your windows. Instead, give Precision Pro Wash a call and let our staff of experts handle the exterior window cleaning!
Expert Window Cleaning Land O Lakes Residents Trust
Cleanliness and safety are our top objectives; thus, all of our window cleaners employ cleaning equipment and methods with these priorities in mind. As a result, these considerations are at the forefront of everything they do. We make every effort to provide each and every one of our customers with high-quality window washing services at a fair price, regardless of the size or complexity of the project. Prior to beginning, we can provide you with time and cost estimates so that you are fully aware of what to anticipate from our team. In order for our customers to know they can rely on us for any window cleaning services, we work hard to earn their loyalty and trust.
Call Today for Window Cleaning in Land O Lakes, FL!
Our window cleaning near me techniques range from soft washing to power washing. After we visit your property and assess your needs, we develop a cleaning plan tailored for your unique cleaning requirements. Our employees are conscious of the fact that while they clean your property, they are also getting rid of poisons and organisms that other cleaning methods can miss. We take satisfaction in being able to offer window cleaning services to all various kinds of clients, including commercial window washing, while still retaining the highest standards.
In Florida's Pasco County, the city of Land O' Lakes is a part of the Tampa-St. Petersburg and Clearwater Metropolitan Statistical Area are one of the thriving cities of entertainment and amenities. Land O' Lakes has grown significantly during the past 10 to 20 years. The city has incorporated adjacent previous settlements such as Denham, Ehren, and Gowers Corner. New homes, shops, and schools have been built to accommodate the expanding population. One of the unique attractions in the surrounding area is the Beaumont Ranch, a 160-acre ranch with lush greenery close to Land O' Lakes. The ranch provides boarding for horses, riding instruction, RV and tent camping, weddings, and events.
We also offer the following professional services in Land O Lakes, FL: