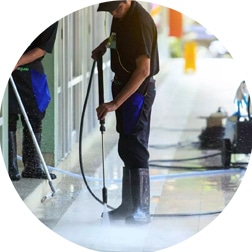 Top Rated New Port Richey FL
Pressure Washing Services
Pressure washing is one of the most effective activities you can do to clean the exterior surfaces of your home or business and protect your building supplies, too. The professional cleaning crew from Precision Pro Wash is excited to offer top-quality pressure washing New Port Richey, FL, services to all property owners in the region. We are a full-service exterior surface cleaning company, and we welcome the chance to clean your home or business anytime during the year. When you are searching for a residential or commercial pressure washing New Port Richey, FL, service that is trustworthy, transformative, and affordable, then please reach out to our experienced team. We are excited to hear from you!
New Port Richey, FL, pressure washing services are recommended by professionals about every year or two, depending on the local climate, the amount of vegetation you have around your structure, and your personal preferences. Our local weather can be harsh on the building supplies and hardscape surfaces we have on our residential or commercial properties. Mold, mildew, dirt, pollen, algae, insect nests, and other unwanted substances can appear on outdoor surfaces. These substances can be unattractive for your property and can be harmful to your building supplies. We want to provide you with pressure washing services that will enhance the beauty of your place and protect your building materials, too.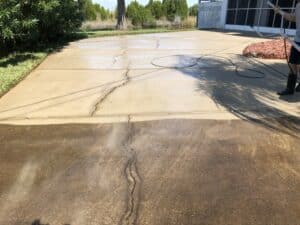 We Also Offer Commercial Pressure Washing Services & More
We offer a wide range of pressure cleaning New Port Richey, FL, services to our customers, including commercial pressure washing. Homeowners in the area may enjoy the roof washing, house washing, driveway cleaning, sidewalk cleaning, or patio cleaning services we offer. Commercial property owners and managers may like services for building washing, drive-thru cleaning, concrete washing, dumpster pad cleaning, or parking lot cleaning. We offer all of these services, and so many other pressure washing services, throughout the year.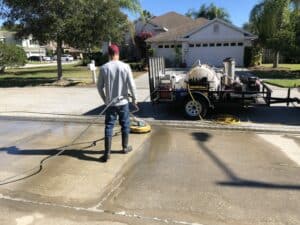 Expert Pressure Cleaning New Port Richey Residents Trust
New Port Richey is a beautiful and welcoming community. Approximately 17,000 people live in New Port Richey, and many more people visit the community annually. This suburb of Tampa was incorporated in 1924. It is located just northwest of downtown Tampa. The region has much to offer, including; nearby beaches, delicious restaurants, retail shops, and local parks to visit, too. If you are searching for a nice, peaceful place to view local wildlife and study regional plants, then you may want to visit the James E. Grey Preserve. Sims Park is another nearby park that is a nice place to take the kids and let them play on the park's playground equipment.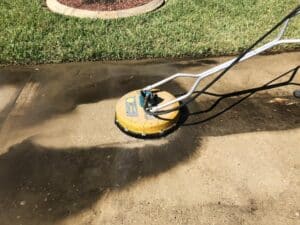 Call Today for Pressure Washing in New Port Richey, FL!
The dedicated cleaning crew from Precision Pro Wash enjoys the work we do for our customers. We know that our work significantly impacts the beauty of your place, the value of your property, and the cleanliness of the area around you. Our goal is to be your one-stop shop for all of your residential and/or commercial pressure washing New Port Richey, FL, services. Our team members are happy to answer any questions you may have for us. We can also provide you with a free quote for a particular cleaning service. If you have been looking for a reliable pressure washing near me service, then please look no further than the experienced team from Precision Pro Wash. We look forward to hearing from you and working with you anytime!
We also offer the following professional services: