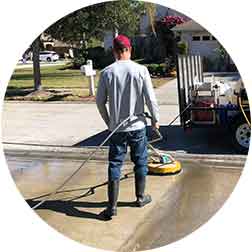 Top-Rated Weeki Wachee Pressure Washing Services
Do you need the service of a Weeki Wachee, FL pressure washing company to keep your building and surroundings clean? Look no further than Precision Pro Wash. With our professional pressure washing services, you can have a property that looks as good as new.
Let us make your home or business presentable to potential clients and guests. Don't delay further and contact us for first-class pressure washing near me.
With a clean business area, you can build your company's reputation as one of the best in the industry. Our professionals clean your driveways, sidewalks, patios, and much more. You don't have to wait until your building looks dirty when our experts can keep it clean regularly.
Did you also know that you could boost the morale of your employees with a clean work environment inside out? Trust us for your commercial pressure washing in Weeki Wachee, FL, and let us make your windows and surfaces so clean that your clients can see their reflections on the gleaming surfaces.
Searching for Commercial Pressure Washing Near Me?
Our experts recommend having your property pressure-washed at least once a year. For your pressure cleaning in Weeki Wachee, FL, we use high-pressure water jets to remove even the toughest stains from areas around your building exterior. Rest assured, this is an inexpensive way to make your building the envy of the neighborhood.
We will help remove algae, dirt, mold, mildew, and other contaminants from exterior surfaces such as bricks, stuccos, concretes, metals, vinyl, and wood. We pressure wash driveways, sidewalks, patios, decks, fences, and pools. We also restore and protect your property with our low-pressure chemical washes. Our team of experts has the knowledge and experience needed to safely and effectively clean any type of surface.
Expert Pressure Cleaning Weeki Wachee Residents Trust
With our expertise, we can also help remove loose paint and graffiti from walls. Reach out to us now and schedule your periodic concrete washing. We would help you maintain your property and keep your building looking aesthetically appealing. Let us help prevent you from having to spend more money on renovations or replacements.
Our skilled experts know how unique every part of a building is and how each part requires different water pressures. This is why they use soft washing, a low-pressure technique to clean fragile areas like your roofs and windows. They also employ power washing that requires using hot, high-pressure water to get rid of stains such as those from gasoline or grease. Just contact us, and let's clean your property the best way possible.
Call Today for Pressure Washing in Weeki Wachee, FL!
Weeki Wachee is a charming community located in the heart of Hernando County and is known for its natural beauty and friendly people. The Weeki Wachee Springs State Park is a beautiful park that offers visitors amazing water views. You can first-hand explore manatees in their natural habitat in the warm, spring-fed waters of Florida, or you could enjoy the underwater mermaid show. Visitors could also relax in the park's campgrounds or cabins.
Precision Pro Wash proudly offers professional and affordable pressure washing in Weeki Wachee, FL, that will have your buildings looking their best! With our pressure cleaning skills, we prolong the integrity of your building. If you have any questions about our services, please don't hesitate to contact us right away. We are always available for all sorts of cleaning, from your driveway to your patio cleaning. We hope to work with you soon.
We also offer the following professional services in Weeki Wachee, FL: