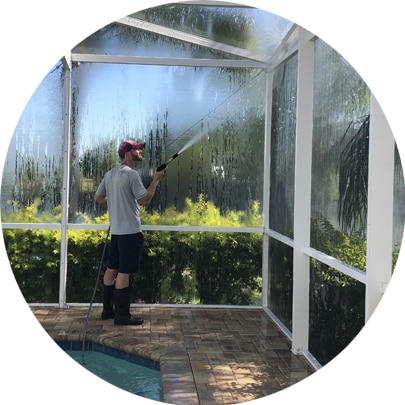 Top Rated Homosassa
Pressure Washing Services
Precision Pro Wash is your trusted source for pressure washing Homosassa locals rely on. Our specialty lies in residential and commercial pressure cleaning services. Our experts understand the importance of having a clean and well-maintained property. That's why we offer a range of pressure washing services to meet the needs of our clients.
Our team of experienced and dedicated professionals is fully trained in the latest pressure washing techniques, ensuring that your surfaces are left looking their best. You can bank on our team to handle any job, no matter how big or small. Reach out to us now for affordable and effective Homosassa pressure washing services.
When it comes to commercial pressure washing in Homosassa, we don't mean to brag when we say we are the best in the industry. We understand that the appearance of your business is a top priority and that clean surfaces are a crucial part of that. That's why we offer comprehensive cleaning services to help keep your business looking its best. Contact us now to keep the exterior of your commercial building clean and healthy. We provide pressure washing Homosassa locals trust.
Searching for Commercial Pressure Washing Near Me?
There are several reasons why it is vital to keep your patios clean. One, it will improve the appearance of your outdoor space, making it look more inviting and welcoming. This way, you can have an ideal place to relax or entertain guests. Next, a clean and well-maintained patio can increase your property's value. This is especially true if you are looking to sell your building soon.
With a clean patio, you don't have to worry about mold, mildew, and other harmful substances that can harm your health. Regular cleaning can help to prevent these substances from accumulating, ensuring that your patio is a safe place to spend time. We will help you increase the functionality of your outdoor space with our first-class patio cleaning.
Expert Pressure Cleaning Homosassa Residents Trust
With our pressure cleaning Homosassa services, we offer concrete washing. Please leave it to us to make your patios, driveways, sidewalks, decks, and building surfaces cleaner and sturdier. Our team will carefully clean and restore your patio or concrete surfaces, leaving them looking like new.
Precision Pro Wash has you covered no matter what type of pressure washing services you need. We pride ourselves on our attention to detail and commitment to customer satisfaction. Contact us today to schedule your pressure washing appointment and see the difference that clean surfaces can make.
Call Today for Pressure Washing in Homosassa, FL!
Homosassa, Florida, is home to various excellent restaurants, sure to please any palate. Whether you're in the mood for seafood, Italian, Mexican, or any other cuisine, you'll find something to suit your tastes in Homosassa. One popular restaurant in Homosassa is The Freezer Tiki Bar on South Boulevard Drive. This laid-back eatery is known for its delicious seafood dishes, including fresh oysters and shrimp. The restaurant also has a full bar, a fun tiki-themed atmosphere, and an outdoor setting, making it an excellent spot for a casual evening out with friends.
If you need pressure washing near me, don't hesitate to call us. We are always happy to provide a free quote and consultation, and we are confident that our services will exceed your expectations. Contact us today to schedule your pressure washing appointment and see the difference that clean surfaces can make.
We also offer a variety of other services such as: