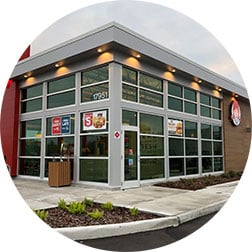 Top-Rated Hudson Window Cleaning Services
Precision Pro Wash is Hudson, FL's go-to window washing company readily available to handle your window washing, interior window cleaning, exterior window cleaning, and commercial window washing. Not only does receiving regular window cleaning services and frequent maintenance help keep windows looking great for years to come but keeping your windows clean can also help prevent costly window damage, protect the indoor quality that you and your family breathe, and maintain your home's energy efficiency.
To efficiently protect your property, turn to Precision Pro Wash, a window cleaning near me company equipped with the necessary tools and equipment to handle your window washing needs. Our experts work with both commercial clients and residential clients alike to provide exquisite window cleaning services whenever you need them. With our tried-and-true cleaning methods and safe washing products, we're confident that we will leave the windows on your home or business with a lasting shine.
Searching for Window Washing Near Me?
Our window washing professionals will not only clean your windows, but we also make sure your window frames, tracks, sills, and screens are clean as well! Dirty window frames, tracks, sills, and screens may welcome pests around and on your property. Plus, if there's a frequent buildup of debris on your window, it can take a toll on those features over time, causing them to need repairs or replacements sooner than later.
If your windows are covered with dirt and other filmy grime, don't worry about cleaning them yourself! Precision Pro Wash is the window cleaning Hudson, FL company homeowners and business owners trust for impressive cleaning work. Our window cleaning crew will have your windows looking brand new! We offer window cleaning services using effective methods, top-of-the-line equipment, and state-of-the-art cleaning solutions.
Expert Window Cleaning Hudson Residents Trust
Are you tired of looking out of your window and only seeing streaks on the glass or cobwebs and dirt on your windowsills? Precision Pro Wash is here to help! Our team of window cleaning experts takes the necessary precautions when it comes to cleaning your window. If you need interior window cleaning, our professionals will always use boot covers when entering your home, so we don't leave tracks on the floor of your home or business. During the cleaning process, we cover your floors and furniture for ample protection. We'll also make sure any drapes or blinds are out of the way during the duration of the cleaning.
If it's the windows on the outside of your property you're worried about, we can handle that too! We provide exterior window washing services that will leave the outside of your windows looking squeaky clean. Our professionals use specially designed ladders and other equipment that are not harmful to your home or business's exterior. We'll also keep an eye on any outdoor decorations you may have, including flower beds and lights, so they aren't harmed during the process.
Call Today for Window Cleaning in Hudson, FL!
If you need the windows on your home or business cleaned, Precision Pro Wash is the only Hudson, FL company to put your faith in. With us, you'll get a streak-free guarantee and a 7-day rain guarantee on all our window cleaning projects. View the world around you through clear eyes and clear windows with the assistance of professionals from Precision Pro Wash.
The Hudson, FL area is home to over 12,000 people looking to have their residential or commercial windows cleaned, and Precision Pro Wash would be more than happy to serve every one of them. If you call Hudson, FL home and you're looking for a reliable window cleaning company near you, Precision Pro Wash is the company to call. Our professionals offer affordable window cleaning services that are second to none! Reach out to us today to schedule your service.