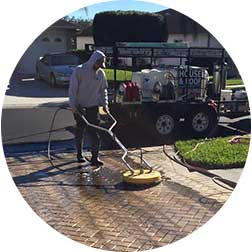 Your Ultimate Guide to Professional Pressure Washing in Spring Hill, FL
Spring Hill, FL, is more than just a tropical oasis. It's a place that unites rich history, stunning landscapes, and a warm community. From the architecturally stunning Spring Hill Waterfall to the beautiful Weeki Wachee Springs, nature and man-made wonders blend seamlessly. The picturesque waterfront vistas, coupled with stunning parks like the Pioneer Florida Museum, tell tales of the area's rich past, adding depth to the city's character. The residents enjoy the best of Florida's cuisine, with seafood caught fresh from the Gulf of Mexico being a local favorite. Living here means being part of a community that cherishes its roots while embracing the future, and it's this balance that makes Spring Hill a truly special place to live.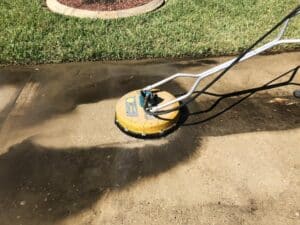 Embracing the Pressure: An Introduction to Professional Washing
Here in Spring Hill, FL, where the sun smiles brightly, and the palms sway gently, we at Precision Pro Wash work tirelessly to keep homes and businesses pristine. With our pressure washing services, we've mastered the art of harnessing the power of water to breathe new life into exteriors.
Spring Hill's warm, humid climate is a blessing and a curse. It creates an idyllic tropical paradise but also encourages the accumulation of grime and mold on buildings. Luckily, our expertise in pressure washing in Spring Hill, FL tackles these cleaning challenges head-on, restoring your surfaces to their original splendor.
This guide is designed to take you on a journey through the world of pressure washing. By the end, you'll understand the science behind it, the benefits, and why our local service is a trusted choice in Spring Hill.
Behind the Spray: The Science and Charm of Pressure Washing
The magic of pressure washing lies in the balance of power and precision. Imagine turning your garden hose into a high-speed cleaning jet, powerful enough to wipe away years of dust and grime but precise enough to avoid damaging your surfaces. That's what we achieve with our pressure cleaning in Spring Hill, FL.
Despite the simplicity of the process, the results are astonishing. From weather-worn patios to grubby commercial buildings, pressure washing can transform any exterior surface. And it's not just about the aesthetics. Regular pressure washing can help maintain the structural integrity of your buildings by preventing the long-term damage often caused by unchecked mold and mildew.
Whether it's concrete washing or patio cleaning, we're prepared to take on the challenge and deliver results that often exceed expectations. It's always a delight to see our clients' reactions when they see their cleaned surfaces looking as good as new!

Keeping Spring Hill Spotless: Your Local Pressure Washing Heroes
Living up to Spring Hill's pristine reputation is no small task, but it's a challenge that we at Precision Pro Wash are ready to embrace. Spring Hill's weather, while mostly enchanting, poses its unique challenges when it comes to maintaining our properties. Over the years, we've honed our services to counter these very challenges effectively. We're not just a company providing pressure washing services; we are passionate local individuals, dedicated to preserving the aesthetic allure of our city.
Our team at Precision Pro Wash takes immense pride in delivering a diverse suite of services. Our offerings range from commercial pressure washing in Spring Hill, FL to comprehensive residential exterior cleaning. Our unwavering commitment to quality, coupled with our local expertise, ensures a meticulous service that leaves your property looking pristine.
Being part of the Spring Hill community, we understand the importance of quick response times. We're just a call away, always ready to spring into action, to address your pressure washing needs. You no longer need to worry about searching for "Spring Hill pressure washing near me", because with Precision Pro Wash, the solution is always at your doorstep.
In the spirit of going above and beyond, we don't stop at merely delivering our services. We believe in establishing lasting relationships with our clients. Every pressure washing task is another opportunity for us to contribute to keeping Spring Hill spotless, a mission we've taken to heart. Each project we undertake is infused with this passion, ensuring an unrivaled level of service that keeps our city shining.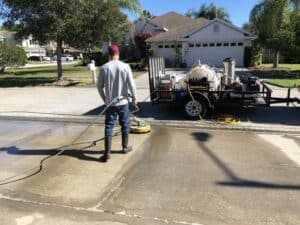 Pressure Power Transformation: Reinvent Your Space with Pressure Washing
You may wonder if you could undertake a pressure washing project yourself. While DIY may seem appealing, professional pressure washing offers advantages that far outweigh the cost. The experience and expertise of our team ensure a job well done without risking damage to your property.
In the heart of Spring Hill, we've had the opportunity to witness some incredible transformations. Be it a grimy driveway turned sparkling pathway or a moss-covered patio returned to its original splendor. There's nothing quite like the satisfaction of seeing our pressure washing services breathe new life into homes and businesses.
As your local heroes in the world of pressure washing, we invite you to experience this transformation first-hand. With us, your property isn't just another building; it's a part of Spring Hill's charm, a piece of our shared community, and we are committed to keeping it looking its best.
At Precision Pro Wash, we're not just providing a service; we're creating visible, tangible changes in our community, one property at a time. Embrace the power of professional pressure washing and join us in maintaining the beauty of Spring Hill, FL.
We also offer the following services in Spring Hill, FL: