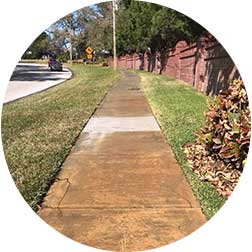 Top Rated Trinity
Pressure Washing
If you live or work around the Trinity area, then you know that the area boasts a lot of interesting things to do. From local parks, nature preserves, dining establishments, and shopping destinations, no one has a shortage of things to get involved in or to enjoy. With so much to do around you, the last thing you probably wish to do, is to spend your time cleaning the outdoor areas of your home or business. We can help!
Trinity Roof Cleaning Pros
The expert staff from Precision Pro Wash offers many services for outdoor cleaning; from pressure washing any hard-surface areas, to roof cleaning, paver sealing, window cleaning, gutter cleaning, rust and stain removal, and so much more. For all of your exterior cleaning projects, let us take care of the chores, so you can engage in more interesting aspects of your daily life.
We Are The Paver Sealing And Window Cleaning Trinity Professionals
Our team members have acquired many years of experience in all aspects of exterior cleaning. We know which pressure washing processes will work the best for each individual project. Furthermore, we have some of the industry's most effective cleansers and advanced machinery, that allows us to perform the superior workmanship that we have to offer to our customers. Our professional tools, along with our experience, education, and dedication to our craft, makes for a perfect combination for all sorts of exterior cleaning projects such as pressure washing, roof cleaning, or even paver sealing. Paver sealing in Trinity can not only enhance the look of your property, but also protect it from the environment. Whether you are looking for pressure washing, or searching for paver sealing near me, Precision Pro Wash is here to help with all of your paver sealing and exterior cleaning needs. We want to end your paver sealing near me in Trinity search!
#1 Pressure Washing Trinity Residents Appreciate
Precision Pro Wash offers pressure washing, paver sealing, and exterior cleaning services for all types of residential and commercial properties. We always strive for excellent customer satisfaction, and we always put safety first; our safety, your safety, and the secureness of your personal property. You can rest easily knowing that we will do everything we can to take care of your project and leave you with a final result that you will be highly-pleased with, for a very long time. Please contact us if we can help you with any of your pressure washing projects. We look forward to working with you anytime and we can't wait to help you with your pressure cleaning in Trinity and your roof cleaning in Trinity!