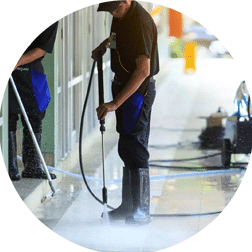 Top Rated New Port Richey
Pressure Washing
An unkempt exterior property appearance is one of the quickest ways to devalue your property. Several different factors impact your exterior property finish regularly. These include algae, mold, bacteria, and extreme weather just to name a few. Without the proper experience or knowledge, you won't be able to effectively clean your property exterior which is why you shouldn't try. To solve this problem, contact a reliable New Port Richey pressure washing service provider who can assist you.
At Precision Pro Wash, all of our team members are equipped with industry-leading tools and in-depth pressure cleaning knowledge. This enables us to deliver premium results consistently, with years of experience in the industry you can count on us to get the job done right.
Keeping your roof in pristine condition is one of the simplest ways to maintain the overall safety of your home. Over time, substances such as algae, mold, bacteria, and more will begin to decompose your roofing material. To effectively solve the problem, our roof cleaning specialists will perform a comprehensive cleaning of your roof. We use a specialized cleaning process known as soft washing, which allows us to directly target bacteria without damaging your roof.
We are the Window Cleaning New Port Richey Experts
This is achieved through the combination of low-pressure and powerful eco-friendly cleaning solutions. Our New Port Richey roof cleaning is guaranteed to restore the quality of your roof while protecting it from future decomposition. It can be easy to forget about cleaning your windows however when you do so, they can become very dirty and begin to corrode.
This will stain the overall appearance of your home which can lead to a decrease in property value. Our window cleaning technicians are trained to deliver streak-free cleanings that restore your window's clarity. The hard-surfaced exterior finishes around your property like concrete and stone are durable however they are very susceptible to staining and bacteria growth.
Our pressure cleaning services are designed to specifically target dirt and bacteria so that your hard-surfaced materials are restored to their original condition. We can clean virtually area on your property including driveways, parking lots, sidewalks, and more. This is why our clients trust us to take care of all their pressure washing New Port Richey needs. Pavers are commonly used as exterior decorations for properties; however, they can become an eyesore when not taken care of properly.
Call Today for New Port Richey Roof Cleaning and Paver Sealing
Weed growth and discoloration due to UV ray exposure are some of the most common factors that will impact your pavers quality. Our paver sealing services utilize a specially formulated protective coating that shields your pavers from all of these various threats. Don't waste any more time looking for paver sealing near me New Port Richey services that don't deliver, trust our team to get the job done right.
Keeping the exterior appearance of your commercial property up to par is very important for business owners. However, trying to find an efficient solution to this issue can be challenging which is why we have a solution for you. Our commercial pressure washing is compatible with various areas such as parking lots, dumpster pads, walkways, storefronts, and more. Once we're finished, your commercial property's exterior appearance will be completely restored.
If you own a property in the New Port Richey, FL area, and are interested in our services, visit our website to fill out the contact form and receive your free quote. All of our exterior pressure cleaning services are backed by a 100% satisfaction guarantee, they are also very affordably priced so you can get the assistance you need without breaking the bank.
Contact Precision Pro Wash today!