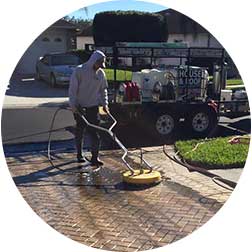 Top Rated Land O Lakes FL
Pressure Washing Services
Land O Lakes is, of course, an area that boasts plenty of lakes; however, there is so much more to see and do in the area. There are interesting wineries, golf courses, eating establishments, and many other things for residents and visitors to enjoy. If you are a property owner within the Land O Lakes region, then we would like to introduce ourselves to you. We are Precision Pro Wash; your one-stop shop for all of your pressure washing and exterior cleaning projects. We gladly service all residential and commercial properties, and we know that we can help you with any of your exterior cleaning needs, too.
Offering Window Cleaning and Roof Cleaning in Land O Lakes, FL
The professionals from Precision Pro Wash have many services to offer to any of our customers. We specialize in all types of pressure washing projects, soft wash roof cleaning, gutter cleaning, window cleaning, paver sealing and cleaning, rust and stain removal, and so much more. We want to help make your outdoor environment a welcoming and pleasing place for you and for all of your guests.
Searching for Commercial Pressure Washing in Land O Lakes?
Any property can become inundated with pollen, dirt, grime, mold, algae, or some other unwanted element. We know that we can provide you with exceptional care that will exceed your expectations, mainly because we have the experience, education, tools, and dedication to provide superior results. In very little time, we can transform your property into an area that looks almost brand-new. Whether you are looking for pressure washing or searching for Land O Lakes paver sealing near me, Precision Pro Wash is here to help with all of your paver sealing and exterior cleaning needs.
We are the Paver Sealing Land O Lakes FL Professionals!
Customer satisfaction is something that we take very seriously. We aim for you to have the confidence in us to take care of your projects professionally, responsibly, and thoroughly. We always place safety as a number one concern whether you hire us for paver sealing or pressure washing, as we work diligently to care for your home, your business, and the areas surrounding your property.
If you have pressure washing, paver sealing, or exterior cleaning projects that need to be completed and cared for, then please contact Precision Pro Wash today! We gladly offer free estimates for all potential projects and we always aim to please. We look forward to hearing from you anytime you are ready. We can't wait to help you with window cleaning or paver sealing in Land O Lakes, FL!