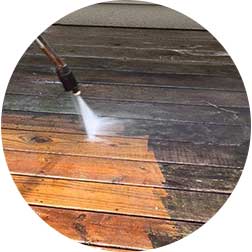 Top Rated
Exterior Cleaning in

Hudson FL

Pressure washing is one of the quickest, simplest, most cost-efficient activities that you can do, in order to dramatically improve the exterior appearance of your residential or commercial property in Husdon, FL. Professional pressure washing services can rid your hard-surface areas of pollen, dirt, mold, algae, mildew, and all other forms of organic debris. Not only will a thorough cleaning improve the visual appearance of your property, but it will also improve the healthiness of your outdoor surroundings, which can be very beneficial for you and for anyone else on your property.
Hudson Roof Cleaning Pros
If you own a residential or commercial property within the Hudson area, then Precision Pro Wash would like to offer our exterior cleaning services to you. We are your local experts for all types of pressure washing chores. If you are in need of a roof cleaning, building washing, window cleaning, gutter cleaning, brick paver sealing or cleaning, rust and stain removal, or other outdoor cleaning services, then please contact Precision Pro Wash. We have experience, knowledge, and the proper equipment to provide every one of our customers with a professional cleaning job that will surpass your expectations.
#1 Pressure Washing Hudson Residents Appreciate
We know that the Floridian weather can wreak havoc on the local properties; from strong winds, humidity, and moist conditions, residents may sometimes feel like they are always battling to keep their homes and businesses free from grime and looking crisp in appearance. We can help! The professionals from Precision Pro Wash know which pressure washing techniques will work the best for individual projects, and we welcome the opportunity to share our industry knowledge with you. Our team members will gladly offer free estimates for potential customers, and we will also complete an on-site preview of proposed projects. Whether you are looking for pressure washing, or searching for paver sealing near me, Precision Pro Wash is here to help with all of your paver sealing and exterior cleaning needs.
We Are The Paver Sealing Professionals
If you are in the Hudson area and you have pressure washing, paver sealing, or exterior cleaning projects that need to get done, then please reach out to the expert staff from Precision Pro Wash. We always strive for 100% customer satisfaction, as we always work in a safe, methodical, thorough fashion with every project that we are granted from our loyal customers.