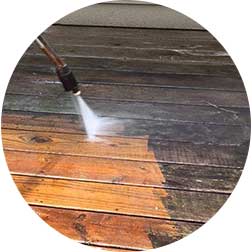 Top-Rated Hudson Pressure Washing Services
Every homeowner and business owner wants to prevent the growth of mold, algae, and mildew as those harmful fungi can create catastrophe on your property, especially with the wet and humid heat that the beautiful state of Florida offers. If your home or business becomes infested with these damaging containments, you can expect to pay copious amounts of money to repair or replace your valuable patio furniture, concrete, and other exterior features. Without repairing or replacing them, you, your family, your customers, and/or your employees are exposed to health concerns, water damage, and more.
As soon as your property is showing signs of mold, algae, or grime growth, you must get them cleaned quickly. If those infected areas are left unattended or uncared for long periods, they'll leave black or green stains on your property which reduces its curb appeal and value. To prevent these misfortunes from happening, contact Precision Pro Wash for pressure washing services.
We also offer top-rated Window Cleaning, Roof Cleaning, and Paver Sealing in Hudson!
Searching for Commercial Pressure Washing Near Me?
Precision Pro Wash is the pressure washing Hudson, FL company to call for immediate cleaning of your home or business's dirty, mold-infested exterior areas. From concrete washing to patio cleaning, Precision Pro Wash is the pressure washing near me company to turn to for it all. Our team of professionals will use industry-leading low-pressure soft washing application systems to accurately and properly clean the exterior areas of your home or business that need washing. While some pressure cleaning Hudson, FL companies use high-pressure equipment that could lead to damage to your building materials, our soft-washing equipment is a safe and effective way to clean your property and increase your curb appeal.
Our Hudson pressure washing professionals are highly skilled, highly qualified, and highly experienced in the latest up-to-date industry training and education. We use these methods and knowledge to effectively pressure wash your home, driveway, sidewalk, patio, siding, pool deck, brick pavers, condo, townhouse, restaurant, store front, parking lot, dumpster pad, and so much more. We're proud to be a residential and commercial pressure washing Hudson, FL company locals can turn to for the immediate cleaning of your moldy and algae-infested exterior areas.
Expert Pressure Cleaning Hudson Residents Trust
While many homeowners and business owners think they will be saving money performing pressure washing services themselves, that's not the case. You may want to approach the cleaning process of your property's mildew and algae yourself, but it's always best to stick to the professionals. Our trained crew has years of experience when it comes to cleaning the exterior of homes and businesses in the Hudson, FL area, plus we have all the necessary tools and equipment readily available. You'll more than likely spend even more money and time buying the equipment yourself rather than turning to a professional pressure washing company. And, if you don't accurately pressure wash your exterior surfaces, you'll end up having to turn to a professional in the end. While it's tempting to try this service out on your own, we don't recommend it. Contact Precision Pro Wash instead!
Call Today for Pressure Washing in Hudson, FL!
Precision Pro Wash pressure washing specialists are happy to serve our local Hudson, FL community. Hudson is home to a wide variety of local sporting attractions, including an array of basketball courts, tennis courts, soccer fields, recreational centers, and more. However, if you noticed mold, algae, and mildew growing on the exterior of those amenities, you probably wouldn't see as many people indulging in those activities. That's where pressure washing comes in. Pressure washing prevents those amenities from the growth of harmful mold and containment growth so the surrounding community can use them without worry. If you have a residential or commercial property in need of pressure washing services, contact Precision Pro Wash today.