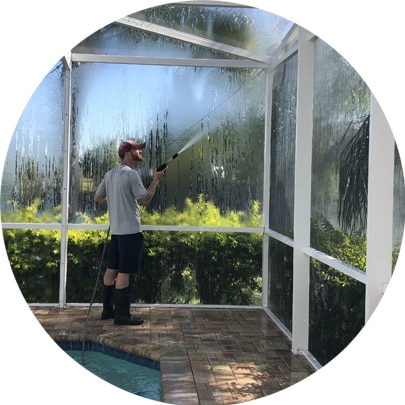 Top Rated Homosassa
Pressure Washing
Nothing can ruin the perceived value of your property like an unkempt exterior finish however many homeowners don't think about it. Factors such as dirt and bacteria accumulation are the most common causes of a dirty looking property exterior. To solve this issue, you'll need to consider the individual variables that your property poses which can be challenging if you have no prior experience. That's why you should contact a trustworthy Homosassa pressure washing company to aid in the solution.
Here at Precision Pro Wash, our team has years of experience in the industry which allows us to deliver premium service results consistently. We equip all of our pressure washing specialists with cutting-edge tools and equipment so we can handle virtually any exterior property cleaning need that you may have. One of the most important safety structures on your home is the roof, neglecting to maintain it regularly can lead to potential safety issues. Organisms like algae, mold, and bacteria are some of the most common variables that will degrade your roofing over time. Our roof cleaning services are designed to directly target substances like these while leaving your core roofing material unscathed.
We use a specialized Homosassa roof cleaning process known as soft washing, this technique combines the use of potent eco-friendly cleaning solutions and low-pressure water. Once the formula is applied to your roof it will restore its material appearance and material strength. Dirty windows can limit visibility from within your home in addition to tainting its exterior appeal.
We are the Window Cleaning Homosassa Experts
Our window cleaning techniques directly address streaks, substances, and dirt to restore clarity. After we're finished, your windows will look great and also be protected from accelerated wear. Hard-surfaced materials such as stone and concrete are commonly used as exterior property finishes. While these materials may be long-lasting, they are magnets for dirt and bacteria growth.
Stained or discolored concrete can throw off the look of your home, that's where our pressure cleaning Homosassa service comes in to assist. We powerful cleaning tools that remove bacteria and dirt from the core of your hard-surfaced materials, we can clean walkways, driveways, pool covers, patios, and more. Our pressure washing method will have your home looking clean and fresh with no -hassle on your end. Pavers are great for adding character to a property however without the right protection, weed growth and discoloration can ruin their value. Our paver sealing service will help protect your pavers from rusting, mold growth, UV ray damage, and more. We use a specially formulated sealant for different materials to ensure we deliver long-lasting results. If you've been looking for paver sealing near me Homosassa, look no further.
Call Today for Homosassa Roof Cleaning and Paver Sealing
Owning in a business is a lot of responsibility, worrying about keeping up the exterior appearance of your commercial property shouldn't be another burden. With our commercial pressure washing process, you won't have to worry about cleaning the exterior spaces of your business anymore. We address all areas of your commercial property including storefronts, dumpster pads, parking lots, drive-thru areas, and more.
If you're a property owner located in Homosassa, FL, and are interested in our service, visit our website to fill out the contact form and receive a free service quote. All of our exterior pressure cleaning services are affordably priced and come backed by a 100% satisfaction guarantee.
Contact Precision Pro Wash today!