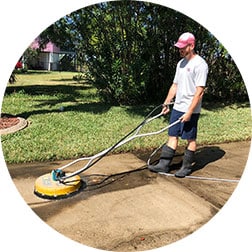 Top Rated Dade City
Pressure Washing
The exterior of your property is constantly exposed to several variables on a daily basis. Extreme weather, dirt accumulation, mold, and bacteria are some of the most common factors that will impact the quality of your exterior finish. The best way to avoid an unkempt exterior property appearance is by hiring a professional Dade City pressure washing company to get the job done right.
Here at Precision Pro Wash we are dedicated to proving our clients with premium pressure cleaning services that deliver visible results. Our team members are thoroughly trained and equipped with cutting-edge equipment, which enables us to handle virtually any exterior property cleaning need that you may have. Roofing structures are one of the primary components of any property as it relates to maintaining a safe environment. Roofs are also very prone to algae growth, mold formation, and other damaging organisms that can ruin their appearance and structural integrity. Our roof cleaning services are designed to target these various growths directly whilst not damaging the material.
We are the Window Cleaning Dade City Experts
We achieve these results by using a specialized process known as soft washing, this technique combines powerful eco-friendly cleaning solutions and low-pressure water. The results are a safe and effective clean that restores your roofing structure's condition. Our Dade City roof cleaning services are trusted by several homeowners in the area. Dirty windows can damper your property's overall appearance, whether it's natural wear or substances like gum we can clean your windows to deliver a lasting shine. Our window cleaning specialists can clean window frames, screens, sills, and more with a lasting shine to top it all off. Hard-surfaced exterior finishing materials like concrete, stone, and tile can be real dirt magnets especially if you have high amounts of traffic around your property.
Call Today for Dade City Roof Cleaning and Paver Sealing
By using our pressure washing Dade City service, you can enjoy a completely restored property exterior with no-hassle. Our team can clean virtually anything including pool covers, patios, driveways, sidewalks, and more. Pavers are also hard-surfaced however they require a much different maintenance approach. Pavers are susceptible to weed growth and discoloration when left exposed to high-traffic without any protection. The answer to this problem is paver sealing which is a process by how your pavers are coated with a protective layer that resists discoloration and weed growth. Don't look for other paver sealing near me Dade City companies, we have you covered.
Maintaining the appearance of your commercial property is vital when it comes to enhancing customer trust. That's why we offer commercial pressure washing services that cover all areas of your business including storefronts, dumpster pads, parking lots, walkways, and more. if you own a property in the Dade City, FL area, and want to learn more about our services, fill out the contact form on our website to receive a free quote.
We provide a 100% satisfaction guarantee on all pressure washing services so you're always protected. All of our services are affordably priced allowing you to get the assistance you need without breaking the bank.
Contact Precision Pro Wash today!